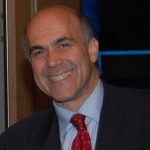 The VSTE CoSN Council and the Virginia Department of Education are pleased to welcome Joe Fredosso, USAC consultant and co-founder and COO of Mighty River, as a speaker for the second annual Leading Ed Forum. Joe will lead a panel discussion on Friday, October 20. This event, designed for school division technology and instructional leaders and presented through a partnership of VSTE and the Virginia Department of Education, will be held October 19 & 20, 2017, at Daniel Technology Center in Culpeper, Virginia. Learn more about this event here.
Mighty River was founded by April and Joe Freddoso in July 2014 as an advise and do company in the broadband infrastructure space.  
In its first three years of operation, Mighty River clients have included:
EducationSuperHighway

Extreme Networks

Universal Service Administrative Company

Person County, NC

The Walton Family Foundation

NC Rural Economic Development Center

Several client relationships under non-disclosure
One of Mighty River's roles has been to assist E-rate applicants in navigating the second E-rate modernization order.  E-rate reimbursement for applicant construction of fiber broadband networks either owned by the applicant or by a broadband provider, greatly expanded under the terms of the second modernization.  In its role Mighty River provided advisory assistance to over 1500 E-rate applicants over a 3-year period from 2014-2017.  
In July 2014, Joe completed a 7-year stint as President and CEO of MCNC.  MCNC operates the North Carolina Research and Education Network (NCREN), which provides broadband connectivity to most Community Anchor Institutions in North Carolina.  Under Joe's leadership, MCNC quadrupled its revenue, grew NCREN's connector community by 700% and now possesses a book value of over one quarter billion dollars.
​
Also, during Joe's time at MCNC, the organization completed a $144 million expansion of NCREN, called the Golden LEAF Rural Broadband Initiative (GLRBI). This expansion included building over 1800 miles of new fiber optic infrastructure, acquiring 800 miles of fiber optic infrastructure through Indefeasible Right to Use (IRU) agreements and adding these fiber assets to the NCREN network.  The result is an NCREN that covers over 80% of North Carolina's counties. 

Joe led the effort to negotiate the fiber leases as the lessee and the lessor and all types of lit service, colocation, above the net services arrangements.  MCNC successfully IRU'd to broadband service providers worth over $25 million of fiber on the GLRBI. Joe and MCNC were recognized as White House Champions of Change in 2012 and Computer World Laureates in 2013 for their efforts.

Freddoso has also served in senior executive roles at Cisco, Turner Broadcasting, LLC, Walt Disney World and for several entities in the Olympic movement including as President and CEO of the 1999 Special Olympics World Summer Games.