VSTE partner, SVETC, is excited to present the 10th Annual Brainstorm Conference, coming April 13-17, 2021.
Brainstorm 2021 will be a fully-virtual Ed Tech Conference designed to motivate educators to innovate their classrooms and integrate ed-tech tools. Presenters and keynote speakers will focus on the future of Ed Tech in education and strategies, tools, and resources to transform classrooms to meet the needs of the 21st-century learner.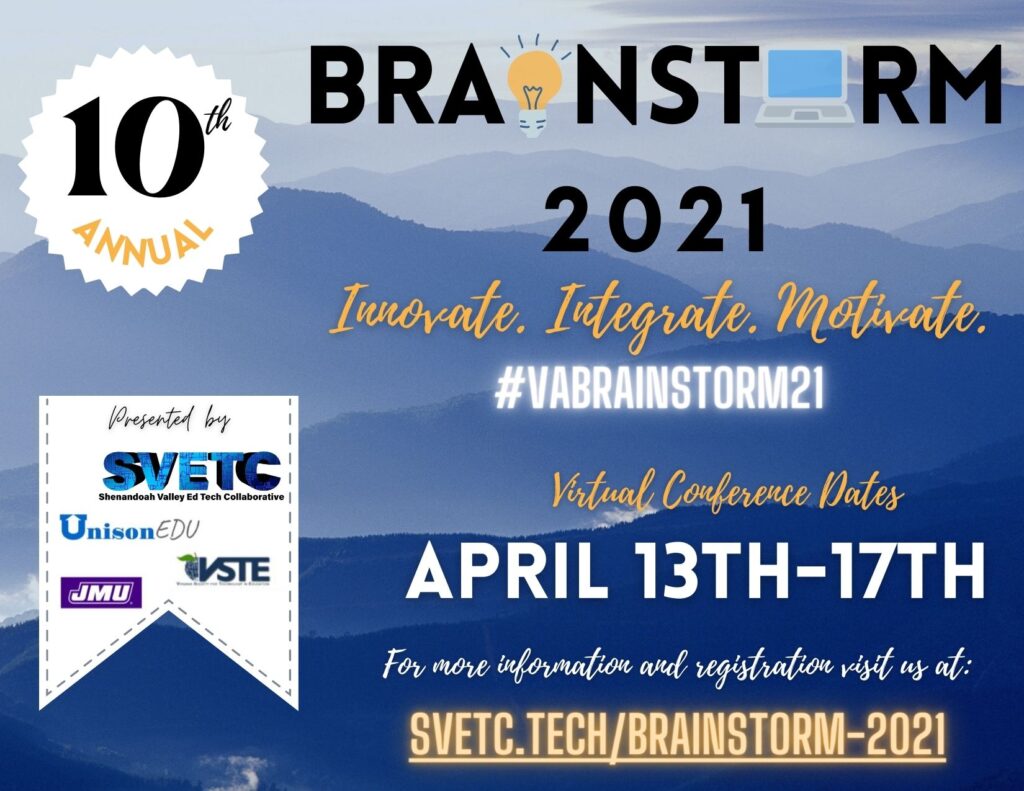 The conference will be powered by the Canvas Platform from Virtual Virginia and will feature:
25 LIVE and interactive Keynote & Sessions (All live sessions will be recorded)
30 on-demand sessions at your own pace
Blending Learning with Google by Kasey Bell Book Study
professional development points
learn in different ways, including book study, live sessions, and on-demand sessions
discussion and follow up with presenters and keynotes after sessions
collaboration with peers throughout the Shenandoah Valley and beyond
LOTS OF LEARNING & FUN with a Social Hour and PRIZES
Learn more on the SVETC website and view the Brainstorm 2021 Schedule.
And follow the conference and our participants on social media using the hashtag #vabrainstorm21
There are two registration options for this conference:
Option 1: Individual- $20.00 for one individual will receive access to the Canvas Course
Option 2: District- $100.00 for access for 100 participants from your school district in our Canvas Course. (If your district selects this option, a separate google form will be sent directly to the participant contact on the registration.)
Register NOW for Brainstorm 2021. Registration will close on Friday, April 9th, 2021.
Don't forget to invite your friends, colleagues, and/or team members to join you for this wonderful learning experience!