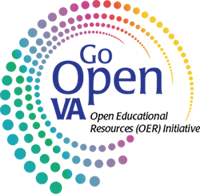 Check out these #GoOpenVA Resources!
On May 5th, 1961, Alan Shepard became the first American in space. He piloted the spacecraft Freedom 7 during a 15-minute 28-second suborbital flight that reached an altitude of 116 miles (186 kilometers) above the earth. Shepard's success occurred 23 days after the Russians had launched the first-ever human in space, cosmonaut Yuri Gagarin, during an era of intense technological competition between the Russians and Americans called the Space Race. Since we are actively exploring space again, check these "out of this world" resources related to Space Travel!
Space Race

- Primary Source Sets for the Digital Public Library of America. The Space Race witnessed extraordinary feats of courage, intelligence, and ingenuity as astronauts and cosmonauts made voyages that previous generations thought were impossible. It also involved deception and espionage as the US and USSR competed for technological advantages. Both sides imprisoned, exchanged, and executed spies to protect these scientific secrets. The Space Race yielded many impressive achievements: putting humans into space, inventing new rocket technologies, launching satellites into orbit, and landing people on the moon. The race also resulted in frightening and powerful technology, including the development of thousands of nuclear missiles strong enough to destroy much of the earth. This set focuses on the Space Race during the mid-1950s and 1960s and examines the impact of the Space Race today. The selected documents, clips, and images raise questions about who "won" the race and shed light on the paradox of the Space Race—a period of tremendous scientific advancement that also yielded destructive technology and weapons.

Edible Rovers - Students act as Mars exploration rover engineers. They evaluate rover equipment options and determine what parts fit in a provided NASA budget. With a given parts list, teams use these constraints to design for their rover. The students build and display their edible rover at a concluding design review.
Space Travel - In this lesson, students are introduced to the historical motivation for space exploration. They learn about the International Space Station as an example of recent space travel innovation and are introduced to new and futuristic ideas that space engineers are currently working on to propel space research far into the future!
Tim Taylor is a VSTE Board Member and Instructional Technology Supervisor in Shenandoah County. He chairs VSTE's Education Committee.