Digital Citizenship Week, running from October 16th to 20th, 2023, provides an invaluable opportunity to reflect upon proper internet conduct. In a world where every moment can be shared with a global audience, it is imperative to pause and ponder: do we truly wish to lay bare every minute of our lives to the world? Furthermore, this observance should compel educators to introspectively think about the way they teach digital citizenship. Are we setting a good example of online behavior? Are we equipping our students to not just survive but thrive in the digital era? Just like with other subjects we teach other students we also need to teach our students how to use the internet, fostering responsibility, and promoting kindness on social media while encouraging a positive digital footprint is crucial.
The International Society for Technology in Education (ISTE) Student Standards delineates digital citizenship as follows: "Students recognize the rights, responsibilities, and opportunities of living, learning, and working in an interconnected digital world, and they act and model in ways that are safe, legal, and ethical."  This may sound simple, but are we really doing a good job fostering these abilities in our students? Within the realm of digital citizenship, nine core themes emerge, some of which may surprise you:
Nine Elements of Digital Citizenship
Digital Access:

Ensuring equitable digital rights and internet access for all.

Digital Etiquette:

Exemplifying good manners and kindness in online interactions.

Digital Law:

Comprehending the laws governing internet use and their implications.

Digital Communication

: Selecting appropriate digital tools to convey one's voice and message.

Digital Literacy:

Evaluating online information to distinguish fact from fiction or opinion.

Digital Commerce:

Understanding online shopping and cultivating mindful consumption in the digital economy

Digital Rights and Responsibilities:

Grasping online privacy rights and responsibilities, including awareness of the

Children's Online Privacy Protection Act (COPPA)

.

Health & Wellness:

Preserving the right to use the internet without fear of cyberbullying or other mental health concerns.

Security:

Exercising caution with fundamental internet safety best practices to safeguard one's internet data and footprint.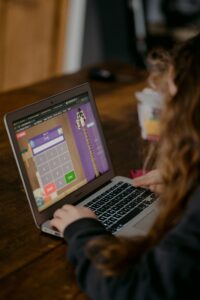 Why should digital citizenship be important to educators and students? The importance of digital citizenship to educators and students cannot be emphasized enough. First and foremost, safeguarding students from harm and furnishing them with the skills requisite for success in life is essential. Secondly, in the state of Virginia, digital citizenship is integrated into the Computer Science, Digital Learning Integration, and ELA Standards of Learning. Thirdly, Virginia recently enacted Code 22.1-24.1 (approved on 3/21/23), mandating the State Superintendent to establish an Internet Safety Advisory Council, furthering the cause of safe media and technology utilization by students and teachers in public schools statewide. Numerous school districts in Virginia have already embarked on the development of district-wide Digital Citizenship programs for both staff and students.
As Digital Citizenship Week approaches this year, it is incumbent upon all stakeholders to contemplate how we are preparing students to be adept, responsible digital citizens of the future. A deliberate review of daily lesson plans and interactions with students is warranted. How can we collectively enhance the digital citizenship competencies of our students?
For educators seeking valuable resources on digital citizenship, consider exploring the following:
About the Author:
Fara T. Faust is an Instructional Technology Specialist with Virginia Beach City Public Schools and a member of the VSTE Board of Directors.  She can be contacted at FaraFaust@VSTE.org