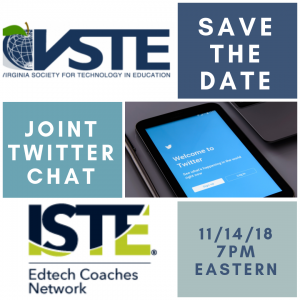 VSTE is pleased to partner with ISTE's EdTech Coaches Network to support their popular tweet chat. Join us on Wednesday, November 14, at 7 PM to discuss how personalized learning can support educational equity.
Are you new to Twitter chats? Edutopia's "An Introduction to Twitter Education Chats" is a great starting point to learn more about making the most of this event.
Be sure to follow @vste and @EdTechCoaches on Twitter.
See you next week!