2023 Outstanding Technology Teacher, Coach and Leader of the Year Award
VSTE will recognize and honor Virginia Educators, Technology Coaches and Leaders who are VSTE members (nominee not a member have them join here) and who have demonstrated outstanding achievement and leadership in implementing technology to improve education. Award recipients will be selected from a pool of nominations submitted by VSTE members from around Virginia.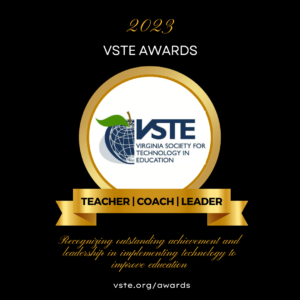 Nominations will be accepted from June 12, 2023 - September 15, 2023. Nominations will be reviewed by the VSTE Board of Directors and past winners. Select nominators and nominees will be contacted by September 22, 2023 to provide additional evidence and documentation.  Documentation will be due on October 6, 2023. 
Winners will be notified no later than November 3, 2023.  Award winners will be recognized during the opening general session at the annual conference. They are also provided with a complimentary conference registration and two nights of hotel accommodations for the annual conference. This year's conference will be held December 3-5, 2022, in Roanoke, VA.
The Awards Committee uses the ISTE standards as the basis for judging the Outstanding Technology Coach awards. Please review the appropriate standards when preparing nomination materials. Nominees are rated solely using criteria identified in the rubric.
Please use this form to nominate a teacher, technology coach, or leader for this award.
More information about the ISTE Standards for Coaches, ISTE Standards for Educators, ISTE Standards for Education Leaders.
Questions should be addressed to awards@vste.org.
---
2022 Winners
Outstanding Coach: Logan Childress - Emerging Technology Specialist, Bristol Virginia Public Schools

Outstanding Coach:

Catherine Richards  - Lead Instructional Technology Coach Goochland County Public Schools

Outstanding Leader:

Dr. Anthony Brads  - Superintendent Culpeper County Public Schools 
2021 Winner for Outstanding Coach
Fara Faust, Virginia Beach Public Schools
2018 Winners for Outstanding Coach
Patrick Hausammann, Clarke County Public Schools

Krystle Demas, Goochland County Public Schools

Timothy Signorelli, Fairfax County Public Schools
2017 Winners
Outstanding Leader: Tim Taylor, Instructional Technology Supervisor, Shenandoah County Public Schools

Outstanding Teacher: Nichole Thomas, Instructional Facilitator for Technology, Liberty Elementary School, Loudoun County Public Schools
2016 Winners
Outstanding Leader: Dr. Amy Cashwell, Chief Academic Officer, Virginia Beach City Public Schools

Outstanding Teacher: Dr. Ann Nash, ITRT, Henrico County Public Schools
2015 Winners
Outstanding Leader: Dr. Helen Crompton, Assistant Professor, Old Dominion University

Outstanding Teacher: Doug Saunders, ITRT, Henrico County Public Schools
2014 Winners
Outstanding Leader: Janet Copenhaver, Director of Technology, Henry County Schools

Outstanding Teacher: Daniel Nemerow, Math and Special Education, Prince William County Schools
2013 Winners
Outstanding Leader: Richard Pierce, Associate Professor, Shenandoah University

Outstanding Teacher: Wendy Phillips, literacy specialist at Belview Elementary School, Montgomery County Schools
2012 Winners
Outstanding Leader: Mark Nichols, Special Education Supervisor for Assistive Technology and Individual Education Programs, Loudoun County Public Schools

Outstanding Teacher: Norene Skiles, library media specialist at Windsor Oaks Elementary School, Virginia Beach City Public Schools
2011 Winners
Outstanding Leader: Thomas Woodward, Assistant Director of Instructional Technology, Henrico County Public Schools

Outstanding Teacher: Kristina Peck, Riverbend High School Math Teacher, Spotsylvania County Public Schools