While we hope everyone leaves the VSTE Conference with many new ideas to improve your professional practice, the best is always that one big "aha" that you can turn around and use immediately.
In this post, VSTE member Tracey Zaval talks about the great idea she brought back to her classroom from VSTE 2016.
------------
Last year I attended the VSTE conference for the first time. Not only was I looking forward to attending the conference as a presenter, I was also looking forward to the conference as an attendee. As I veteran teacher of 19 years, I know the mark of a great conference is one where you instantly get excited about something you learn and you can't wait to get back into the classroom to try it out with your students, and I had high hopes for the VSTE conference. Well, let me tell you, that conference last year was a GREAT one!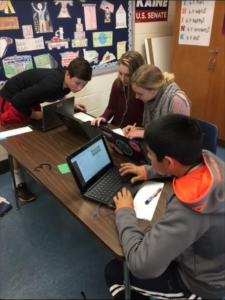 One of the first sessions I attended was a "pop-up" session in the hall of the convention center. The one I attended taught participants about digital breakouts, a computer version of the very-popular escape room concept that require students to work collaboratively and think critically. I had never heard of digital breakouts but within 20 minutes of the presentation, I was excited and I was hooked. I couldn't wait for the session to be over so I could start looking around the digital breakout site for myself to see how I could adapt their ready-made breakouts for my class.
As soon as the session was over, I found an empty table to sit at as I checked out the available resources on the digital breakout site. I very quickly decided I would need to create my own digital breakout in order to support my students' learning, so I got right to work. There are a series of videos on that site that teach people how to make their own digital breakout - everything from how to build a google site, how to embed secret clues, and how to create a google form to house all the digital locks. I pretty much spent the next two days of the conference working on my digital breakout in between sessions until I had a finished product.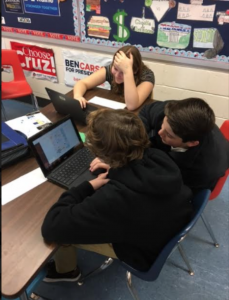 I debuted my first digital breakout, "It's a Wrap", in my classroom right before the winter holiday break. The premise of the breakout was to breakout out of the town that ran out of gift-wrapping paper and make it to the town of Wrappinville to buy more. My students had such a great time participating in this activity, they asked right away if they could do another one. At that point, I had already begun working on my next one, a content-related breakout involving James Madison as he was writing the U. S. Constitution. My students were so excited, three weeks later, when they got an attempt to break James Madison out of his office to help him find where he put his draft of the Constitution.
Since the conference, I have created three additional digital breakouts and each time I use one in class, my students' excitement and engagement goes through the roof. I am so thankful I attended the VSTE conference last year. If there is anyone who is looking for a great conference to attend to enhance the use of technology in their classroom, the VSTE conference is exactly what you are looking for!
Tracy is an 8th grade civics teacher at Midlothian Middle School. Photos are of her students at work on their Breakout EDU.
Join us at VSTE 2017, December 3-5 at the Hotel Roanoke to discover your next big idea. Due to the size of the convention center, space is very limited and is filling fast. Register now!