We made it to 2021! Although, 2020 was a year that was filled with the unusual, the unprecedented, and the undesired, it was definitely a time that all of us had to learn new strategies to reach and teach our students. This in a way, was one of the most exciting years I've seen in educational technology as most of us dove head first into the world of virtual teaching and learning, picking up new tools and techniques that will serve us well in the coming years. For that part, I am thankful and anticipate some amazing advancements in our field to help promote and cultivate what has started to take root throughout the world of education.
One of the most exciting parts of this new territory, is the use of video instruction that we have seen surge in our classrooms. Pre-2020, most of us used some form of video instruction be it YouTube, TeacherTube, Vimeo, or those huge laser disks from the early 90s that are still hanging around some Biology classrooms. In 2020, there was a surge of teacher created videos, personalized for their individual classrooms, as the blended learning model began to roar like the MGM lion before a long awaited action film.
And with this surge, came the cry for ways to edit, clip out, and enhance videos before release. Classrooms have become mini studio offices for many divisions as teachers create countless clips for their students. This being the case, I thought it would be beneficial to list some of the the best video editing options I have found that won't break the bank and will give you the cutting edge you need to make amazing videos for instruction.
Camtasia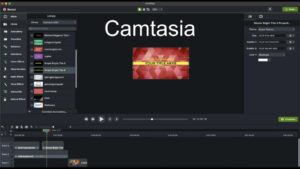 One of my favorite video editors on the market today is Camtasia. It has been my go to software solution for creating and editing videos for many years. Although it comes with a $250 price tag, it is definitely worth every penny as it has built in green screen/color remove, audio enhancement, clip speed adjustment, and even cursor and gesture effects to make your videos sparkle and shine. The built in library of lower thirds, transition effects, background audio, and intros make this a top choice for anyone looking to up their video creation game. Being the powerhouse it is, Camtasia will only run on a Mac or PC. Never fear Chromebook users, yours is next in line.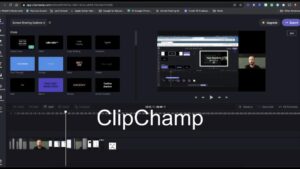 For the Chromebook users out there, let me direct your attention to Clipchamp, an amazing cloud based video editor that gives you a production studio inside the comfort of your favorite browser. With transitions, textoverlays, and a stock footage library, Clipchamp gives other video editors a run for their money, especially when it comes to users with limited hard drives and processing power. Another amazing feature recently added to Clipchamp is the ability to import and edit videos you have stored in your Google Drive. As with many services today, Clipchamp is free to use unless you want some of the more advanced features such as custom logos on your videos, picture in picture, and higher resolution exports. Prices range from $10-$40 per month with varying levels of awesomeness packed in each step.
I wouldn't be much of an Apple enthusiast if I didn't mention their go-to FREE video editor that is available on MacOS and iOS/iPadOS. Although not much has changed in iMovie in recent years, it is still a top contender for the amateur instructional video creator, especially with iCloud integration that allows you to work on a video project using your iPad, then move over to your Mac or your iPhone as needed, or vice versa. If you have an Apple product, I would highly recommend checking into iMovie if you haven't already.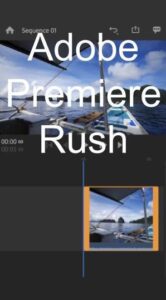 For the Android users, Adobe has you covered with an amazing resource for creating video productions. You're possibly familiar with or have at least heard of Adobe Premiere, the high end, Hollywood quality video editor that can do about anything you want in regard to special effects and video wows. Enter, Premiere Rush, Adobe's mobile option that doesn't have all of the bells and whistles as its parent product, but has enough to keep you busy creating amazing videos using your Android, iOS/iPadOS, or desktop. The free trial allows for limited exports but at $10 per month, it's definitely a great and affordable option for your video editing needs.
There are so many other options out there for you to choose from when it comes to creating and editing your videos, far too many to name in a single blog post. Options like HitFilm, WeVideo, Filmora, and FilmoraGo, are definitely worth looking into if the ones mentioned above just don't seem to fit your needs, and if you still don't see one you like, it's worth a Google for sure. The biggest and most important part of finding the right video editor for your instructional videos is finding one that works for you. Happy editing and Happy New Year!
---
Written by Daniel Vanover. Daniel is a Technology Coach for Wise County Public Schools with 14 years of experience in education.  He holds a M. Ed. in Educational Administration and Supervision from Lincoln Memorial University and is a Google for Education Certified Trainer.