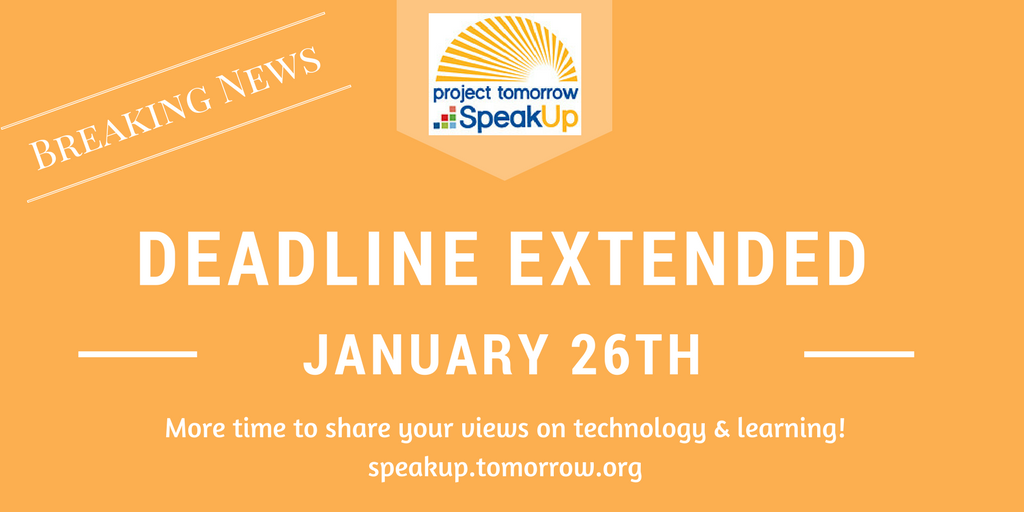 The deadline for completing the Speak Up Survey has been extended to January 26, 2018. Don't miss your opportunity to collect valuable information about how your stakeholders are using technology for learning in and out of school.
In addition, two new opportunities to win have been added this week:
2 NEW opportunities announced this week!
Teachers can enter to win a $250 Amazon gift card for classroom supplies, in addition to being eligible for a free registration to ISTE 2018!
Communications officers can enter to win a $250 grant towards any 2018 professional conference of their choice.
Entry options for these prizes have been added to the end of the teacher and communications officer surveys (identifying information will not be connected to the surveys, keeping responses confidential). Anyone who had already completed the survey and wants to be considered for the prizes, just has to complete this form to enter.
A final question has also been added to the surveys for librarians (to win a registration AASL's National Institute) and administrators (to win a registration to ISTE 2018 or AASA's National Conference on Education).
Project Tomorrow also sponsors several video and design challenges. Their deadlines have also been extended.