"Yes!"
"Let's do it!"
"We want to try this!"
"I saw this cool thing on Twitter and I am going to try it with my kids tomorrow!"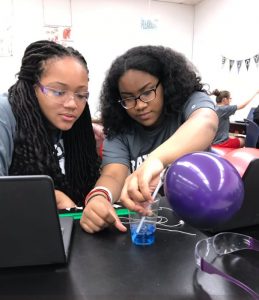 These answers are the phrases that every instructional coach craves to hear from the teachers in her school, especially when they are accompanied by passion for learning, contagious smiles, and positive attitude. Mr. Ryan Kurpiel and Mrs. Jenn Vedder are the educators who serve a healthy dose of their enthusiasm for learning every day to their students in their Sci-Phy (Science and Physical Education), Biology, and Health and Physical Education courses at Bayside High School in Virginia Beach, VA.
Jenn Vedder, a health and physical education teacher, and Ryan Kurpiel, a science teacher, are a dynamic team in their first year of co-teaching a course that combines biology and health and physical education curricula. The concept is rooted in the simple fact that teaching cross-curricular courses like this helps create more authentic and deeper learning experiences for students.
"As teachers, we are given the task of helping our students become 21st Century learners and to do that, we need to change the way we teach to meet our students' needs", explains Mrs. Vedder. Mrs. Vedder and Mr. Kurpiel have found what seems to be the perfect balance of tech-intensive projects and device-free learning.
Each lesson in their Sci-Phy class includes a carefully planned combination of individual and small group activities that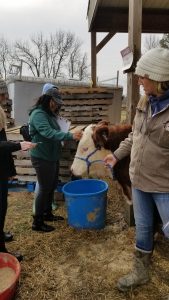 effectively incorporate student voice and choice. For example, Mrs. Vedder framed one of the projects with student choice options as a game of Fortnite with Google Slides. Talk about generating student interest! Mr. Kurpiel tasked the students with showing what they know about infectious diseases by designing a brochure with a publishing tool of their choice and incorporating the information into a patient and medical professionals interaction skit. The students were the main decision makers on the requirements of the project and excellent peer reviewers. The 9th graders recorded their CPR practice sessions and posted those videos on a shared Padlet for review. Another time, Mr. Kurpiel and Mrs. Vedder pushed the limits of the schoolís Wi-Fi when they took their students on a treasure hunt around the campus with virtual submission checkpoints through Actionbound App.
This lesson was a cross-curricular activity to prepare the students for the field trip to the local cattle farm. The focus for health curriculum was disaster preparedness. At the same time, the students showed mastery of objectives on orienteering for Advanced Placement Human Geography and lifesaving skills and the use of antiseptics vs. antibiotics for Biology. Often, the students are the experts in room and the teachers and the classmates are their grateful audience. How could anyone not get excited for a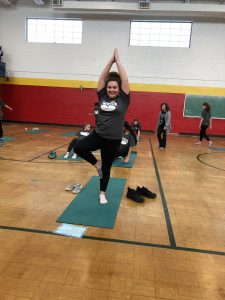 student-led lesson on yoga or a Taekwondo practice with a nationally ranked Taekwondo Black Belt? However, the list of examples of effective use of Google Apps for Education, FlipGrid, Padlet, MySimpleShow, Canva, Piktochart, Schoology, and
many more educational technology resources does not fully describe how much fun Mrs. Vedder's and Mr. Kurpiel's students have while learning and making important real-life connections with the community and each other.
The most inspiring part of these teachers' approach to their instruction is how much they plan for the needs of the whole child. Brain breaks, team building, social-emotional development, new community experiences and field trips do not always require technology, but they do certainly require teachers who work tirelessly and creatively for the well-being of their students. Moreover, the pride and joy that Mrs. Vedder and Mr. Kurpiel have for their students shine through in every one of their Google Photos albums, every newsletter, and every Tweet. It is quite hard to believe that both of these exceptional individuals are finishing their third year as full-time teachers! As an instructional technology specialist, I feel privileged and honored to witness such vibrant teaching with and without technology.
Mrs. Vedder generously shares her students' work on her website https://sites.google.com/vbschools.com/coachvhpe/sci-phy and via Twitter @CoachVedder_HPE. Mr. Kurpiel is also on Twitter @I_Teach_Life.
---
Written by Tatiana Kasyanik, an Instructional Technology Specialist at Bayside High School in Virginia Beach, VA. Tatiana can be found on Twitter @rus_eng_teacher.