I wanted to take this opportunity in my last blog post as a VSTE Board Member to reflect a bit on my six year tenure. First, I want to thank all of the people I've had the privilege to serve with these past six years. The people I have met and worked with have not only enriched my professional life, but my personal one as well. I would love to mention everyone by name, but I am afraid I would leave someone out! Serving on this board has opened the door to many other connections with organizations, businesses, and individuals that have been productive and fun for me. As many of you know, whenever you do not know the answer to a question, just knowing the right person to reach out to to get the answer makes all the difference.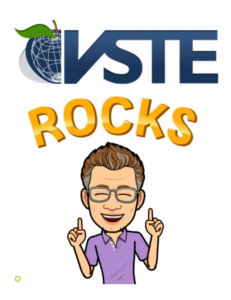 Serving on the VSTE Board has offered me many memorable experiences. Even though the pandemic interrupted some of our face-to-face experiences, I was fortunate to have many that I treasure. Being involved with the VSTE Conference as a Board Member only enhanced my experiences at our annual VSTE Conference. The conference has always been my favorite conference to attend. I have been to many excellent regional, national, and international conferences, but our conference is second to none. Quality presenters, great networking, great facilities, passionate educators, and of course, M&Ms and candied bacon!
I have and continue to serve on many boards, but the ones that mean the most to me are the ones that give me an opportunity to "serve." I feel VSTE has allowed me to do this not only as a Board member, but especially in giving me the opportunity to serve as the Chair of the Education Committee. I want to thank all the people that have served on this committee through the years. I am proud of our work which includes the rewriting of the TSIPs (Technology Standards for Instructional Personnel), assisting with the writing of the Workshop in a Box for the rollout of GoOpenVA by the DOE, providing quality blog posts for our website, assisting with our #VSTEinAction social media campaign, creation of Edtech Shorts video tutorials, and providing quality guest speakers and presenters on pertinent topics in the world of education. I appreciate Emily Heller for taking on the role of chairperson for the Education Committee. I know she will do a great job and make a positive impact.
I was taught that it is important when you leave a position in an organization, it should be in a better place because of the service you provided and that its future looks bright. I am confident VSTE will continue to serve, grow, and lead the way when it comes to effective instructional technology integration in our schools. Thanks to everyone for allowing me to serve and I wish the best to all those that continue to serve! VSTE rocks!
---
Written by Tim Taylor. Tim is the Instructional Technology Supervisor for Shenandoah County Public Schools and, as he discusses in this post, is an outgoing member of the VSTE Board and chair of the VSTE Education Committee.