"I'd like to do that, if I just had the time," is one of the most commonly heard phrases in the hallways of any school. If you've ever said that yourself, one solution might be podcasts. I dragged my feet for a long time, getting into podcasts, but once I did, I found that it gave me the time to learn so much more. And getting started with podcasts is incredibly simple—just find an app, find a show, and find some time.
Finding an app is the simplest step. You probably already have an app on your phone that will let you download content—look for an app called Podcasts or Google Play Music. If you prefer an app that's more robust, there are dozens of options out there. Some of my favorites are Castbox, Podcast Addict, or Stitcher. Spotify is also getting into the podcast game which would be a good starting place if that's an app you already use.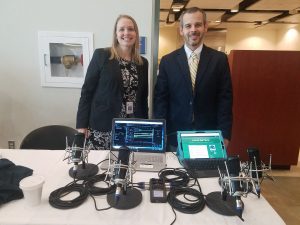 The next part is the fun part—find a show! Start by searching for content that interests you. Apple podcasts has over half a million in podcasts in over a hundred languages, so you're certain to find one that appeals to you.
My favorite EdTech podcast is definitely The EdTech Takeout, a twice-monthly, conversational-style show in which the hosts discuss the latest updates in educational technology while keeping their focus on student learning. If you prefer a podcast with a single host, I strongly recommend The Cult of Pedagogy. Jennifer Gonzalez shares her thoughts on teaching strategies, education reform, and more. She never fails to teach me something new in her podcasts. If you want a slightly wider menu, there's a curated list available on the Education Podcast Network where I always find something new to try.
If you're planning to podcast with your students, it's also great to listen to some podcasts that are for and by young people. NPR publishes WOW in the World to explore science and technology, and I am always delighted by the interview-style Show about Science, hosted by a second grader but well-produced by his dad. For a more authentic feel of what students are capable of, check out The Fifth Grade Futurists, which is highly entertaining, but also attainable for real classes with limited equipment. Narrative podcasts are also great for a younger audience. I like The Unexplainable Disappearance of Mars Patel which is narrated by middle school students. If you want something subject- and grade-specific, Listenwise is a freemium service, but their curation tool is free and robust.
The last step is just to find some time to listen. I fell in love with podcasts while training for a marathon. They filled the time up so much better than music. I also listen on my morning commute and when I'm doing chores around the house. I try to save my favorite narrative podcast to listen to while I'm ironing—it helps pass the time with a chore I particularly detest.
For the busy teacher, it's the lowest-investment, highest-return way I can think of to sneak some professional learning time or just make your commute a more enjoyable experience.
---
Written by Elizabeth Engelbret, Instructional Technology Coach at Fred Lynn Middle School in Prince William County. She is co-host, with Brian Simpson, of the PWCS EdTech podcast, a bi-monthly program available in Apple Podcasts and other podcast aggregators.