The Virginia Society of Technology in Education (VSTE) is proud to announce that it is currently piloting the first cohort of the VSTE Coach Certification (VCC) program. As part of VSTE's mission to promote excellence in education through professional development and our vision to be an influential leader and change agent for technological innovation in education, the development of a rigorous program for certifying instructional technology coaches across the Commonwealth is an exciting endeavor. Now that the first cohort is underway, we want our membership to know more about the program.
What is the VCC?
The VSTE Coach Certification program was spearheaded by the VSTE Education Committee. After exploring existing coaching models and certifications, VSTE decided to partner with Forward Edge to create a customized instructional technology coaching program for the Commonwealth. Forward Edge is an Ohio-based instructional coaching company that specializes in providing professional learning and support for instructional coaches and technology integration. Several of the VSTE Board members were invited to attend their Forward Edge Coaches Camp in July of 2022. After experiencing the Coaches Camp it was clear that the program was a great fit for what VSTE was looking for, and a collaboration began to redesign the Forward Edge curriculum to specifically meet the needs of our diverse school divisions and technology environments in Virginia. The content adapted from Forward Edge that is provided in the VCC program has earned the ISTE Seal of Alignment for Coaching Standards, and is designed to positively impact division goals, teacher instruction, and student learning.
After completing the VCC program, coaches will:
The VCC Pilot
In order to launch the VCC successfully, VSTE is piloting the program with an initial cohort. Under the direction of Rod Carnill, VSTE's Executive Director, the first group to participate in the VCC was chosen as a representative group from across the Commonwealth. Starting in the 2021-2022 school year, VSTE established a grant funded advisory group of regional technology coaches. This group is now known as the VSTE Coaching Crew and consists of members from each of the 8 public school regions across the state. Prior to this year, the VSTE Coaching Crew provided presentations and resources on a monthly basis through the Virtual Virginia statewide and regional meetings, and they also presented at the 2021 VSTE Annual Conference in Roanoke. This year, the VSTE Coaching Crew has been selected to participate in the VCC pilot, so that VSTE can gain feedback and data on the program during its inaugural cohort. So far, the program has been a huge success! The group kicked off in September with a two hour learning session and reconvened again in October for a one hour collaborative session. All meetings have been synchronous and virtual, and the learning and sharing of knowledge has been exciting!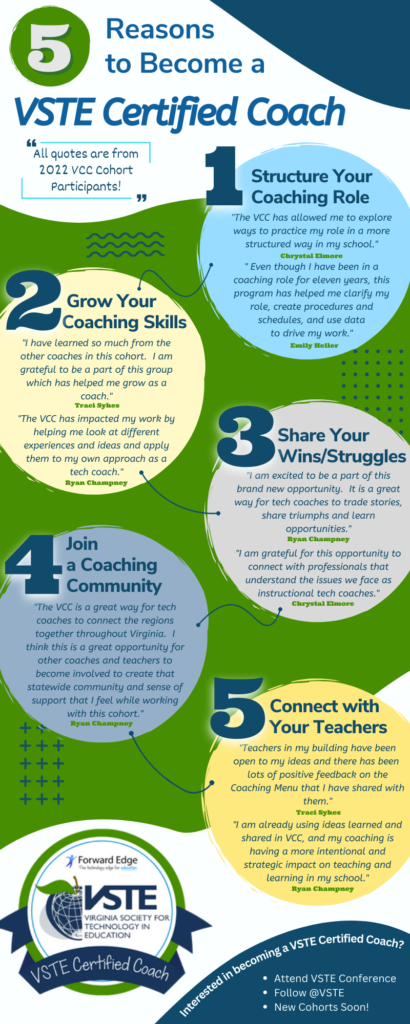 Future VCC Cohorts
VSTE will be announcing the launch of its next two cohorts at the 2022 VSTE Annual Conference in December. If you haven't already registered, be sure to join us in Virginia Beach, from December 4-6th. The pilot cohort members, Education Committee chair, and Forward Edge representatives will be presenting on the VCC Program and will be available at several times throughout the conference. This will be a great opportunity to learn more about the VCC program in detail, hear from those participating on how it is impacting their work, and find out how you can apply to join one of our future cohorts!
Our hope is that the VSTE Coach Certification will provide credibility and clarity to the role of instructional technology coach across the state of Virginia. We encourage supervisors of instructional technology coaches, current coaches, and aspiring coaches to consider earning their VSTE Coach Certification. This credential will demonstrate a deep professional knowledge of instructional coaching, systemic thinking, and technological innovation that divisions will value for its impact on teaching and learning in all areas.
Interested in earning your VCC?
Be sure to follow @VSTE on social media, become a member of VSTE and follow our newsletters for more information, and join us in December to be the first to learn more and sign up! We are building a network of VCC coaches and we want you to be a part of it!