As we take a moment for a much-needed rest, we may not be thinking much about instructional plans for those inclement weather days that now seemed to be called "virtual learning days" in some areas. Don't worry! Your VSTE friends have got you! The VSTE Regional Advisory Council, best known as the VSTE Coaching Crew is a new statewide council aimed at building capacity for virtual and blended learning in each region of the state. This magnificent, not at all motley, 'crew' of technology leaders works to strengthen online presence in Virtual Virginia by expanding our digital PLN, and by partnering with VVA and Instructure for monthly webinars. But that's not all!
At this month's VSTE conference in Roanoke, The VSTE Coaching Crew debuted a cool new and ever-expanding resource guide aimed at helping you use your LMS in your instruction every day! The best part of that is that when those inclement weather days hit and we do another "PIVOT!", then you are all set for learning! Take a look at over 40 Ways to Use Your LMS for ideas, strategies, and some killer resources to help you design and implement seamlessly blended instruction. These resources will also help you to streamline your in-person instruction as well all while sharpening your students' technical and content knowledge skills.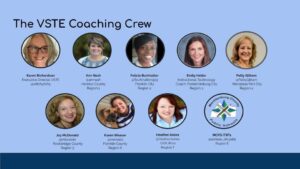 Let's explore a few of those great ideas shared at VSTE! Coaching crew member Ann Nash from Henrico County in Region 1 shared a great idea to create virtual "Gallery Walks" with digital artifacts giving students a place to display their work proudly. Gallery Walks can also be used to help students synthesize their research and presentation skills and offer a collaborative space for reflection and feedback. Learn more about this strategy in the Strategy #3 Resource Guide!
Coaching crew member Patty Gilham from Manassas Park City in Region 4 shared a cool idea to help your little learner navigate your LMS with ease! She suggested using emojis and buttons for a visual representation for young learners who are unable to read allowing them to follow along with the lesson with ease. While she provided examples from her courses in Canvas, this strategy could easily be done with many other types of learning management systems. Learn more about this strategy in the Strategy #21 Resource Guide!
One of my favorite ways to use your LMS in your day-to-day classroom is by presenting content and resources as embedded content. Your LMS can serve as your "home base" of instructional content and support for all of your students. By having your links to activities and resources in one easy-to-access place, you save essential time with one-click access! Want to take your students to a faraway location? No problem, just embed one of Nearpod's free virtual tours lessons! Your students will be able to explore places like Glacier National Park and many more with or without VR equipment. Learn more about this strategy in the Strategy # 13 Resource Guide!
There are so many wonderful ways to blend your in-person and virtual instruction! The VSTE Coaching Crew is working to expand these resources over the next year. We hope to see you at one of the monthly regional meetings. For more information about the regional meeting times subscribe to the Virtual Virginia calendar, or contact VSTE's Executive Director, Dr. Karen Richardson at karen.richardson@vste.org.
---
Written by Heather Askea. Heather is the Instructional Technology Coordinator for the Center for Teaching Excellence at UVA Wise. She is also the Chair of the VSTE Board of Directors. You can connect with her on Twitter @HeatherAskea or by leaving a message on this website.