As Library Media Specialists (LMS), we are always looking for new tech tools to increase student engagement and help teachers enhance their curriculum. One of our favorite tools over the years was Google Tour Builder. Needless to say, we were quite disappointed to find out that Google Tour Builder was going to be phased out and replaced with something called Google Earth Projects. But, turns out, this new tool is amazing!
When school buildings closed during the second half of the 2019/2020 school year and continued to stay closed throughout most of the 2020/2021 school year, the need for tech tools to enhance virtual instruction was at an all time high. Teachers were struggling to learn how to do their jobs virtually while also keeping kids engaged. So, they looked to the LMS and ITS (Instructional Technology Specialist) for help navigating through these unprecedented times. Google Earth Projects was a perfect fit!
Google Earth Projects allows students to travel all over the world virtually, diving into an interactive map and exploring locations with 360° photos and street view, while giving them the ability to create their own tours and projects to share their learning with teachers and classmates. Teachers can create templates and share with their students to edit, or students can create projects from scratch.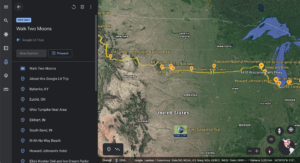 Since Google Earth is part of the G Suite, all projects are saved automatically in students' Google Drives and can be added to or edited as they move through grade levels. Google Earth Projects allows students to drop pins to show locations, add 360° photos for an immersive experience, and add multimedia like photos, videos, and text to pinned locations. Students can also make copies and share out, as well as add collaborators. This tool allows for cross-curricular learning, combining research and writing, as well as content. In addition, students even have the opportunity to present their tours, allowing for oral communication data to be collected.
As Library Media Specialists, we hope to turn what could be a simple lesson into an engaging and interactive experience where students can showcase their research skills, along with their ability to engage in the 5Cs, while exploring curricular objectives. For example, students can show their learning of specific Civil War or American Revolutionary War locations. Additionally, Native American tribes, VA regions, landforms, landmarks, continents, and oceans are just a few of the content areas that have been highlighted within these projects.
As the pandemic and travel restrictions continue, the use of Google Earth projects allows students the opportunity to tour countries around the globe.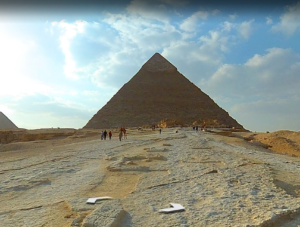 Is your class researching countries? With Google Earth projects, students don't have to just read about it in books; they can take a virtual field trip to see it up close and personal. Teaching geometry? Show students 3D shapes in the real world (think pyramids in Egypt, Spaceship Earth at Disney's Epcot, cylindrical towers in Germany).
Google Earth projects can even enhance a simple read aloud. Yes, students are able to visualize the events in a story, but it would be fun to follow a characters' travels throughout.
While you may be used to Google Tour Builder, give Google Earth Projects a chance and you won't be disappointed! The opportunities are endless and will take your students on a trip around the world all while staying put in the confines of their very own classroom chair.
---
Written by Erin Nye and Courtney Phillips. Erin is a Library Media Specialist at Kingston Elementary School and can be found on Twitter @enye001. Courtney is a Library Media Specialist at Strawbridge Elementary School, and tweets @MrsPhillipsLMS.