King George County Schools has been incorporating Computer Science SOLs since they were adopted in 2017. But including Computer Science skills in our classes started before they were officially adopted by the Department of Education.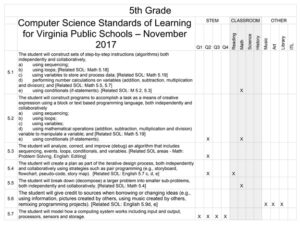 In the spring of 2016 King George County Schools had been experiencing overcrowding in the elementary specials rotation. After looking at several options including orchestra and foreign language, it was determined that STEM would be added to all three elementary schools as a way to introduce the students to engineering and increase exposure to technology, math, and science. During the fall of 2016 students began attending their first classes for STEM. Our first year was exciting and new for everyone. We were all learning as we were doing and the students were very excited about the new special. Some even ranked it better than PE, which helped us to know we had made the right choice.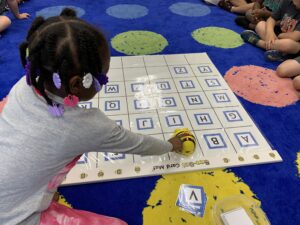 At this time, we were aware that VDOE was working on writing and adopting Computer Science Standards and we were following their work closely. As the standards were adopted we went through each standard to determine where the SOL would be taught (STEM, Art, Music, Library, Math, Reading, or with our ITL). Once it was determined where the SOL would be taught, we began to place them on our curriculum maps.
In the 2018-2019 School year we added a subscription to Learning.com for all three elementary schools and the middle school. Learning.com had the ability to cover all of the Computer Science SOLs for our schools and could be easily assigned to students by any K-8 teacher in the district. Leaning.com has continued to add additional lessons and activities for students, offer professional development for staff and assistance with curriculum as needed.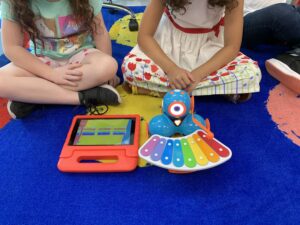 The elementary school STEM programs use a variety of tools to teach Computer Science in addition to Learning.com. Code.org has been a wonderful (and FREE) resource that offers a variety of activities for our students and includes both online and unplugged activities for our learners. Additionally, we have added BeeBots, Dash and Dot Robots, Bloxels, Computational Thinking Games, and 3-D Printers to our labs to augment our programs. While each building has a slightly different set up due spacing and materials added with grants, all three programs continue to provide a variety of experiences for our learners.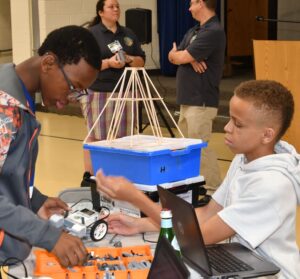 Middle school students get a 10 day Lego Mindstorm Robotics unit as part of their 7th grade life science class. Additionally, the middle school offers semester-long elective classes under the CTE umbrella that include Keyboarding, Middle School Computer Science, and Computer Solutions. The middle school recently completed a major renovation and addition. This has allowed for the creation of a beautiful new Maker Space which includes 3-D Printers, Legos, Drones, and many other resources.
At the high school level, King George students have numerous opportunities to take computer science related elective courses that include: Informational Technology Fundamentals; Computer Information Systems; Design, Multimedia, and Web Technologies; Cybersecurity Fundamentals; Cybersecurity Software Operations; and Video / Media Technology. The high school has also started to create a Maker Space in their library. Each year they are adding additional materials to the Maker Space and encouraging students to create.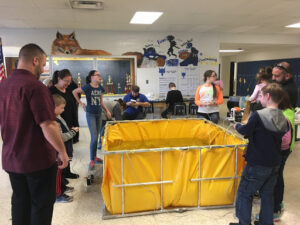 By introducing students to computer science in the elementary schools we believe the students are more prepared to make elective choices at the middle and high school level related to computer science. We also feel it is important for all students to have some experience with Computer Science and STEM at the elementary level because it often allows students an opportunity to be successful and show leadership in ways that are different from those assessed with formal testing.
King George County Schools has also included the community in our growth of Computer Science instruction by having Family STEM (now STEAM) nights. On these evenings, families come together at one of our buildings to experience a variety of STEAM related activities being taught or demonstrated by KGCS Employees, students, community members, and partners from Naval Surface Warfare Center Dahlgren Division. While this year we were unable to get together in person, our division hosted three nights online with multiple sessions being offered every 30 minutes.
If you are just starting to incorporate more Computer Science into your instruction, here are some tips:
Start small.
Look at available resources that your district already has in place.
Look for funding programs and materials from a variety of sources - like local educational grants and DonorsChoose.org to the CTE budget.
Remember that everything doesn't need to be purchased at the same time.
Reach out to other districts and visit their programs.
Most importantly, don't be afraid to give it a try.
---
Written by Yvonne Richard. Yvonne has been a K-6 STEM teacher since fall of 2016. Prior to becoming a STEM teacher, she has taught reading, first grade, second grade, and third grade self contained classrooms. Yvonne is a member of the Virginia Children's Engineering Board of Directors and she is the editor of the Children's Engineering Journal. Yvonne's STEM Lab can be found on Facebook by following @KGES STEM Lab.