What is a Google Educator Group?
Google Educator Groups, GEGs, are communities of educators coming together to share ideas, build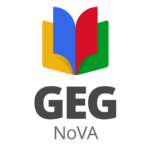 connections, and help each other grow. From the very start, GEG NoVA has been a community of lifelong learners - people so dedicated to their craft that they take time out of their personal lives to join us and learn even more. That dedication to students, families, and communities keeps us going. While GEGs are considered local groups, members are not required to live in that area. You can be a member of as many GEGs as you would like! Additionally, membership is not limited to teachers. Administrators, coaches, students, or anyone interested in using Google tools to facilitate learning is welcome to join. 
What inspired us to start GEG NoVA?
GEG NoVA was born out of our passion for both educational technology and community-oriented organizations. Theresa and I met through EdCamp NoVA, an unconference at which participants decide the topics of discussion on the day of the event. We both were passionate about how this learner-centric PD could engage others. We eventually both ended up joining the planning team for EdCamp NoVA, but soon realized that a semi-annual event wasn't enough. It was from that motivation to find and create learner-centric, in-the-moment PD that GEG NoVA was created! 
Why are we community-focused?
We believe that it's through open and honest collaboration that education can truly thrive. With this in mind, all of the work and content that GEG NoVA puts out to the world comes from our membership. By focusing on building up each other, we not only share our wealth of knowledge, but we build the leadership capacity of everyone involved. For some of our members, this might be the first professional development organization they've ever joined. As a community, we want members to build on that courage to put themselves out there and develop into well-rounded leaders, able to make real change in their schools. 
How can you connect with GEG NoVA?
As a community, we are active on multiple platforms including Twitter, Google Groups, and YouTube. Are you interested in getting involved in GEG NoVA's leadership or presenting a topic to the community? Fill out our interest form!
Follow us on Twitter for the latest updates: @GEGNorthernVA
Join our Google Group!
Watch our previous webinars on Youtube!
Check out our website for more info!
---
Written by Tyler Witman. Tyler is an Instructional Technology Coordinator for Arlington Public Schools and co-founder of the Google Educator Group of Northern Virginia.