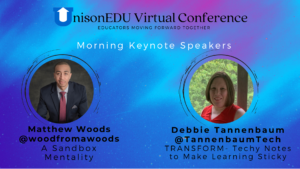 In less than two weeks, UnisonEDU will be offering its biggest event ever - our first virtual conference!  On October 23, you can grow with us professionally and attend one of four keynotes, over 30+ sessions in 3 breakout times, plus bite-sized sessions during the lunch hour; learning from some of the biggest names in our industry.
This conference was designed with educators in mind and we're giving you lots of choice starting with registration. It's FREE to attend the conference the day of or if you want more time to view all of the sessions, pay $10 and your access to the recorded sessions will never run out!  You'll also receive access to additional sessions and resources.
If you are part of a larger group that wants to attend, we're happy to provide bulk registration with video archive access for schools or school divisions:
Schools may register up to 100 people for $100.
School divisions who have from 100 to 200 registrations may register for $300.00.
School divisions with more than 200 can register for $500.
The choices continue with our Keynote Speakers, where you can decide which keynote fits your focus and attend the one that is right for you as both morning or afternoon speakers will be speaking simultaneously:
Morning
Matthew Woods, The Sandbox Mentality

Debbie Tannenbaum, Transform: Techy Notes to Make Learning Sticky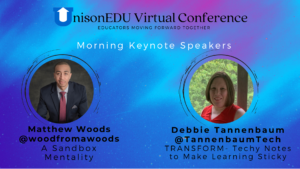 Afternoon
Matthew Joseph, Power of Connections: Cultivating Professional Learning Networks

Hedreich Nichols, Don't Be Afraid to Get It Wrong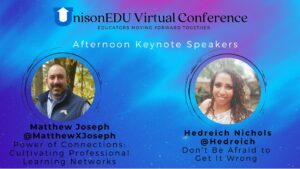 During our breakout times, you can choose from 8 - 9 sessions covering a wealth of areas from STEM, creativity, supporting special education students, mentoring other educators, personalizing learning, HyperDocs, and more!  These sessions will range from 30 - 45 minutes and are categorized from traditional presentation styles to edcamp and gamified style sessions.  At lunch, join in for 15 minute bite-sized or spark-like sessions or consider tuning into the STEM 101 panel.  
Whatever sessions you decide, there is something for everyone!  Check out the schedule and register now.