Robotics competitions are currently at the forefront of our ever-changing technological world. In the modern day, it is important to learn skills that will help your students navigate the shift from traditional, old-school technology to newer and more advanced tech.
Robotics competitions can wake up the leader that each student has inside and can strengthen various abilities and skills - both hard and soft - that are needed in the 21st century like computational thinking, self-directed learning, creative problem solving, time management, teamwork and more.
We have no doubt. Robotics competitions can have an extraordinary positive impact on students.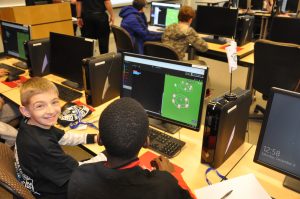 It doesn't have to be expensive: Robotics should promote inclusivity!
Today, implementing a robotics competition in your own classroom doesn't have to be complicated, nor expensive. The Cyber Robotics Coding Competition (CRCC) is an online robotics tournament that engages students in coding without the need of any hardware, making their preparation even more inclusive. Because, robotics should be for everyone, right?
The Cyber Robotics Coding Competition, organized by the ISCEF foundation, has been held in many states around the US, and in a number of different countries both in Latin America, the Middle East, and Africa. In each one of these instances, every single student got to practice and work with their very own virtual robot. Expensive hardware? No need!
In Virginia, last year's finals were held at Virginia Commonwealth University. At the finals, $136,000 worth of scholarships to VCU were awarded to the top 3 teams. 
5 steps to have your own robotics competition in your classroom: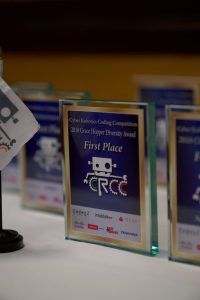 Join our mailing list! The newsletter will ensure you have the latest information. Additionally, the CRCC team is reachable and accessible, just like the competition itself. You can get in touch with the team if you have additional questions about how to implement a robotics competition in your own classroom. The CRCC team will be there for you during the entire time, ensuring an exclusive, comprehensive, extraordinary learning experience both for you and your students.
Register for CRCC, and let the fun begin! Get your students excited about STEM. Show them how STEM will be present in our everyday lives in the future, and how its different applications will rule the way the workforce of the future structures itself. In order to engage them with this matter, you can talk about the importance of makerspaces, gamified learning environments, or even about the most amazing programming languages for kids. The registration for your classroom/club is $250 or for all teachers and students in your school, only $550. You only need a computer with internet, no robots!
Prepare yourself and your students! Join the teacher professional development webinars hosted in the first weeks of October. Details will be in the newsletter. Learn to program yourself, and your students will see that anyone can do it! Set up your student accounts, and have them complete the Bootcamp missions. Bootcamp can be done in teams or individually. It is important for your students to know that anyone can program their very own virtual robot. These gamified missions and challenges will prepare them for the Qualifier Round. Encourage them to find different ways for them to make their robot complete missions and emphasize that there are a number of different paths to success. The Cyber Robotics Coding Competition platform (CoderZ) uses a friendly and colorful visual editor that enables your students to become programmers without even noticing. Students will even be exposed to how blocks translate into textual language - Java.
Create student teams for the Qualifying Round. Although each student works on an individual account, we recommend to start practicing working in teams of 2. This is how the finals are run. It is important that your students learn how to work in teams, when to lead, and when to be guided. Also, dividing them in teams will encourage collaboration while contributing to the "competition atmosphere" you want to create in the class. Encourage them to name their teams, to divide tasks, and to work together in solving the different challenges. The CRCC includes a leaderboard that students follow, and it motivates them to see their team on the top of the list.
Delve into the Qualifying Round and have fun! Once the qualifying round begins, teams can complete challenges from any Internet-connected computer at anytime.
Join the next Cyber Robotics Coding Competition (CRCC) starting October 14th 2019
May the code be with you
---
Written by Trevor Pope. Trevor is the CRCC Competition Master. He has been involved in education technology for two decades. He has been a robotics competitions mentor and has managed both physical and virtual competitions with students across the United States. You can connect with CRCC on Twitter and Instagram.